Nothing is more exciting than movies with fast cars. CarZar takes you down the memory lane of best movies of all time.



1. Fast and the Furious  (2001)
Directed by: Rob Cohen
Produced by: Neal H. Moritz
Story by: Gary Scott Thompson
Starring: Vin Diesel, Paul Walker, Michelle Rodriguez, Jordana Brewster, Rick Yune, Chad Lindberg, Johnny Strong and Matt Schulze
Release Date: 22 June 2001
Running Time:  106 minutes
Plot: Dominic Toretto (Vin Diesel) enjoys the adrenaline of street car racing and his fans treat him like a rock star. After a blazing encounter with the ruthless Johnny Tran, Dom decides to take Brian (Paul Walker), a newcomer to street racing, under his wing. Dom's sister Mia sees something she likes in Brian, too. Trouble is, neither of them realize he's an undercover cop, and Dominic and his rival Johnny Tran are both the prime suspects in a case involving dirty money and big-rig hijacking.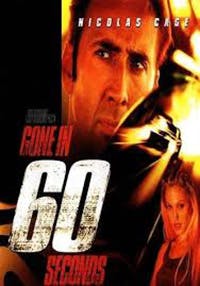 2.  Gone in 60 Seconds (2000)
Directed by: Dominic Sena
Produced by: Mike Stenson and  Jerry Bruckheimer
Story by: Scott Rosenberg
Starring: Nicolas Cage, Angelina Jolie, Giovanni Ribisi and Delroy Lindo
Release Date: 09 June 2000
Running Time: 113 minutes
Plot:   To save his brother's life, a resigned experienced thief has to come back to the industry and steal 50 cars with his gang in one night.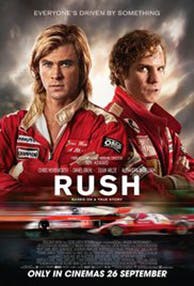 3. Rush  (2013)
Directed by: Ron Howard
Produced by: Andrew Eaton, Eric Fellner, Brian Oliver, Peter Morgan, Brain Grazer, Ron Howard,
Story by: Peter Morgan
Starring:  Chris Hemsworth, Daniel Bruhl, Olivia Wilde, Alexandra Maria Lara, Pierfrancesco Favino and Natalie Dormer
Release Date: 13 September 2013
Running Time:  123 minutes
Plot:  This movie is about the action between Formula One drivers namely James Hunt and Nikki Lauda. Hunt likes partying, while Lauda is obsessed with technical perfection. Both men are committed to racing. Most of the storyline takes place during the 1976 season, though the action starts years earlier when they were young.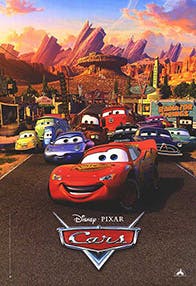 4. Cars (2006)
Directed by: John Lasseter
Produced by:  Darla Kay Anderson
Story by: John Lasseter, Joe Ranft, Jorgen Klubien
Starring:  Owen Wilson, Paul Newman, Bonnie Hunt, Larry the Cable Guy
Release Date: 14 July 2006 (South Africa)
Running Time:  116 minutes
Plot:  While traveling to California to race against The King (Richard Petty) and Chick Hicks (Michael Keaton) for the Piston Cup Championship, Lightning McQueen (Owen Wilson) becomes lost after falling out of his trailer in a run down town called Radiator Springs. While there he slowly befriends the town's odd residents, including Sally (Bonnie Hunt), Doc Hudson (Paul Newman) and Mater (Larry the Cable Guy). When it comes time for him to leave to championship is no longer his top priority.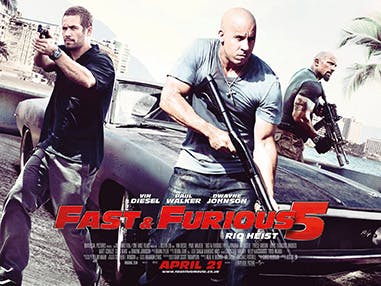 5. Fast Five ( 2011)
Directed by: Justin Lin
Produced by:  Michael Fottrell, Vin Diesel, Neal H. Moritz
Story by: Chris Morgan
Starring:  Vin Diesel, Paul Walker, Jordana Brewster,Tyrese Gibson,Chris Bridges
Matt Schulze, Sung Kang, Dwayne Johnson
Release Date: 29 April 2011
Running Time:  130 minutes
Plot:  Ex-cop Brian O'Conner (Paul Walker) and Mia (Jordana Brewster) rescued her brother Dom (Vin Diesel) out of custody. Before they gain their freedom for good, they must do one final job, which is organizing their team of car racers.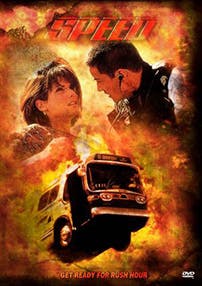 6. Speed ( 1994)
Directed by: Jan de Bont
Produced by: Mark Gordon
Story by: Graham John Yost, Joseph Hill "Joss" Whedon
Starring:  Keanu Reeves, Dennis Hopper, Sandra Bullock, Joe Morton, Alan Ruck, Jeff Daniels
Release Date:  10 June 1994
Running Time:  116 minutes
Plot:  Speed Racer (Emile Hirsch) was born into a family of race cars. He uncovers a secret just after he turns down an offer from the lead of Royalton Industries.  Speed enters the same arduous cross-country race that killed his brother.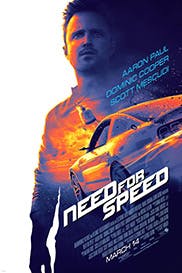 7. Need For Speed ( 2014)
Directed by: Scott Waugh
Produced by: Patrick O'Brien, John Gatins, Mark Sourian
Story by: George Gatins, John Gatins
Starring:  Aaron Paul, Dominic Cooper,Imogen Poots,Ramón Rodríguez, Scott Mescudi, Michael Keaton
Release Date:  07 March 2014
Running Time:  130 minutes
Plot:  Two years later, after being framed by his business partner, Dino Brewester, Tobey Marshall (Aaron Paul) is out of prison and bent on revenge. The only way to take down Dino is through car racing. But to get there in time, he must avoid bounty hunters and an army of cops.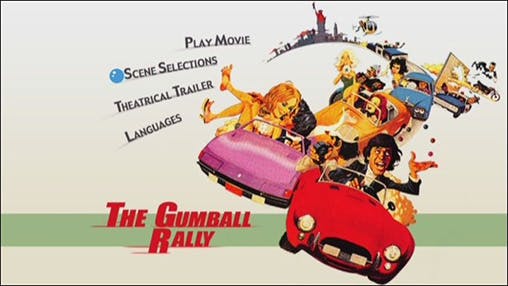 8.  The Gumball Rally (1976)
Directed by: Charles Bail
Produced by: Charles Bail
Story by: Charles Bai and Leon Capetanos
Starring:  Michael Sarrazin, Norman Burton, Raúl Juliá, Gary Busey
Release Date:  20 August 1976
Running Time:   105 minutes
Plot:  A businessman (Michael Sarrazin), his rival (Tim McIntire) and other speed lovers enter an outlaw coast-to-coast car race.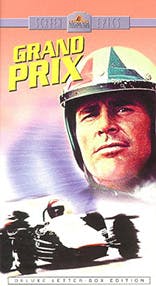 9. Grand Prix (1966)
Directed by: John Frankenheimer
Produced by: Edward Lewis
Story by: Robert Alan Aurthur
Starring: James Garner, Eva Marie Saint,Yves Montand, Toshiro Mifune
Release Date:  21 December 1966
Running Time:   179 minutes
Plot:  The most daring drivers in the world have gathered to compete for the 1966 Formula One championship.  After an amazing car race season, American wheelman Pete Aron (James Garner) is dropped by his sponsor. Motivated not to quit, he joins a Japanese racing team.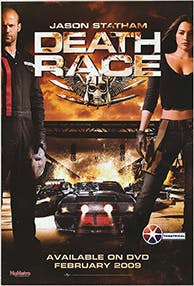 10. Death Race (2008)
Directed by: Paul W. S. Anderson
Produced by: Paul W. S. Anderson, Jeremy Bolt, Roger Corman, Paula Wagner
Story by: Paul W. S. Anderson
Starring:  Jason Statham, Joan Allen, Tyrese Gibson,Ian McShane, Natalie Martinez
Release Date:  22 August 2008
Running Time:   110 Minutes
Plot:  Three-time speedway champ, Jensen Ames (Jason Statham) finds himself  at the country's toughest prison (Terminal Island) after framed for a murder he did not commit. He gets an opportunity to freedom when the warden offers a choice: As a mythical driver to compete in the Death Race, or rot in a cell forever.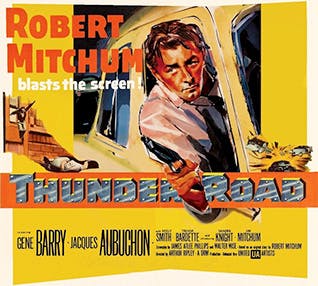 11.  Thunder Road (1958)
Directed by: Arthur Ripley
Produced by:  Robert Mitchum, Arthur Ripley
Story by:  Harry Marker
Starring:  Robert Mitchum, Gene Barry
Release Date: 10 May 1958
Running Time: 93 minutes
Plot:  Unrepentant Tennessee moonshine runner Luke Doolin (Robert Mitchum) makes dangerous high-speed deliveries for his liquor-producing father, Vernon (Trevor Bardette), but won't let his younger brother Robin (James Mitchum) join the family business. Under pressure from both out-of-town gangster Kogan (Jacques Aubuchon), who wants a piece of the local action, and Treasury agent Barrett (Gene Barry), who wants to destroy the moonshine business, Luke fights for his fast-fading way of life.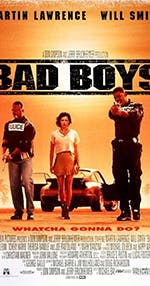 12. Bad Boys (1995)
Directed by: Michael Bay
Produced by: Don Simpson, Jerry Bruckheimer
Story by: George Gallo
Starring:  Martin Lawrence, Will Smith, Joe Pantoliano, Theresa Randle, Tchéky Karyo, Téa Leoni
Release Date: 07 April 1995
Running Time: 119 minutes
Plot:  Miami well known detectives, Mike Lowrey (Will Smith) and Marcus Burnett (Martin Lawrence), blow a fuse when $100 million worth of heroin they recently confiscated is heisted from station headquarters. They are given five days to track down the drugs before they shut down the narcotics division.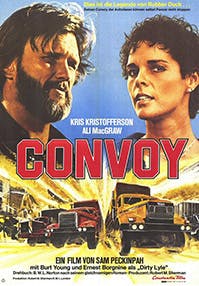 13. Convoy (1978 film)
Directed by: Sam Peckinpah
Produced by: Robert M. Sherman
Story by: B. W. L. Norton
Starring:  Franklyn Ajaye, Kris Kristofferson, Ali MacGraw. Ernest Borgnine, Burt Young
Release Date: 28 June 1978
Running Time:  112 minutes
Plot: Trucker Martin "Rubber Duck" Penwald (Kris Kristofferson) and his buddies use their radios to warn one another when cops come. Sheriff Wallace (Ernest Borgnine) begins to trick drivers through his own broadcasts. Rubber Duck and his friend use their radios to use their radios to organise a vast convoy and rule the road.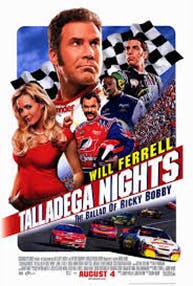 14. Talladega Nights: The Ballad of Ricky Bobby (2006)
Directed by: Adam McKay
Produced by: Jimmy Miller and Judd Apatow
Story by: Adam McKay and Will Ferrel
Starring:  Will Ferrell, John C. Reilly, Sacha Baron Cohen, Gary Cole, Michael Clarke Duncan
Release Date: 04 August 2006
Running Time:  108 minutes
Plot:  NASCAR superstar Ricky Bobby (Will Ferrell)  loses all his wealth and popularity to Jean Girard (Sacha Baron Cohen) ,French Formula One champion. With the help of his father, he works hard to bring back his reputation on the racetrack.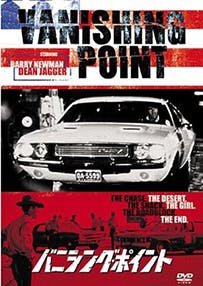 15.  Vanishing Point (1971)
Directed by: Richard C. Sarafian
Produced by: Norman Spencer, Michael Pearson, 4th Viscount Cowdray
Story by: Malcolm Hart
Starring:  Barry Newman, Cleavon Little, Dean Jagger
Release Date: 13 March 1971
Running Time:  98 minutes
Plot:  Vietnam War hero Kowalski (Barry Newman) has become a pill-addicted driver for hire. Transporting a car from Colorado to California, he enlivens the journey by making a wager with his drug dealer: If the trip takes under 15 hours, Kowalski's latest amphetamine purchase is free.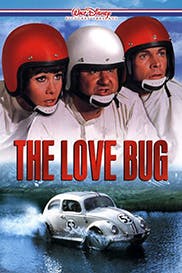 16.  The Love Bug (1968)
Directed by: Robert Stevenson
Produced by: Bill Walsh
Story by:  Bill Walsh, Don DaGradi
Starring:  Dean Jones, Michele Lee, David Tomlinson, Buddy Hackett
Release Date: 13 March 1969
Running Time:  108 minutes
Plot:  A race car driver becomes a champion with a Volkswagen Beetle with a mind of its own.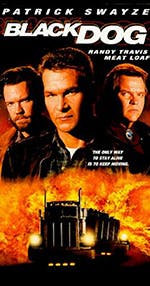 17.  Black Dog (1998)
Directed by: Kevin Hooks
Produced by: Michael Ilitch Jr, Mark W. Koch, Peter Saphier, Raffaella De Laurentiis
Story by:  William Mickelberry, Dan Vining
Starring: Randy Travis, Meat Loaf, Stephen Tobolowsky, Charles Dutton
Release Date: 01 May 1998
Running Time:  89 minutes
Plot:  An ex-con unknowingly drives a truck filled with illegal weapons. He now has to prove his innocence, fight to survive and save his family.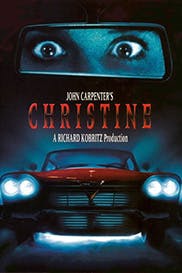 18.  Christine (1983)
Directed by: John Carpenter
Produced by: Richard Kobritz, Larry J. Franco
Story by:  Bill Phillips
Starring: Keith Gordon,John Stockwell, Alexandra Paul, Robert Prosky, Harry Dean Stanton
Release Date: 09 December 1983
Running Time:  110 minutes
Plot: An ambitious, 29-year-old reporter is relentlessly motivated to succeed. She knows she has talent, but being a driven career woman in the '70s comes with its own challenges, especially when competition for a promotion and a tumultuous home life lead to a dissolution of self.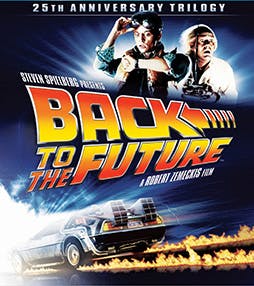 19. Back to the Future (1985)
Directed by: Robert Zemeckis
Produced by: Bob Gale, Neil Canton
Story by: Robert Zemeckis, Bob Gale
Starring: Michael J. Fox, Christopher Lloyd, Lea Thompson, Crispin Glover
Release Date: 03 July 1985
Running Time: 116 Minutes
Plot: In this 1980s sci-fi classic, small-town California teen Marty McFly (Michael J. Fox) is thrown back into the '50s when an experiment by his eccentric scientist friend Doc Brown (Christopher Lloyd) goes awry. Traveling through time in a modified DeLorean car, Marty encounters young versions of his parents (Crispin Glover, Lea Thompson), and must make sure that they fall in love or he'll cease to exist. Even more dauntingly, Marty has to return to his own time and save the life of Doc Brown.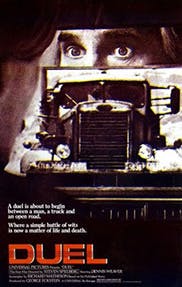 20. Duel (1971)
Directed by: Steven Spielberg
Produced by: Richard Matheson
Story by: Richard Matheson
Starring: Dennis Weaver
Release Date: 13 November 1971
Running Time: 89 minutes
Plot: David Mann (Dennis Weaver), a mild mannered electronics salesman, is driving cross-country on a two-lane highway when he encounters an old oil tanker driven by an unseen driver who seems to enjoy annoying him with dangerous antics on the road. Unable to escape the demonic big rig, David finds himself in a dangerous game of cat and mouse with the monstrous truck. When the pursuit escalates to deadly levels, David must summon his inner warrior and turn the tables on his tormentor.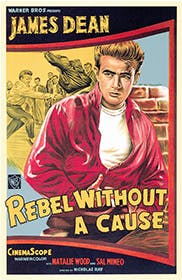 21. Rebel Without a Cause  (1955)
Directed by: Nicholas Ray
Produced by: David Weisbart
Story by: Nicholas Ray
Starring: James Dean, Natalie Wood, Sal Mineo
Release Date: 27 October 1955
Running Time: 111 minutes
Plot: After moving to a new town, trouble making teen Jim Stark (James Dean) is supposed to have a clean slate, although being the new kid in town brings its own problems. While searching for some stability, Stark forms a bond with a disturbed classmate, Plato (Sal Mineo), and falls for local girl Judy (Natalie Wood). However, Judy is the girlfriend of neighborhood tough, Buzz (Corey Allen). When Buzz violently confronts Jim and challenges him to a drag race, the new kid's real troubles begin.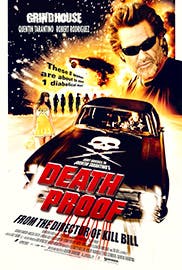 22. Death Proof (2007)
Directed by: Quentin Tarantino
Produced by: Quentin Tarantino, Robert Rodriguez, Elizabeth Avellan, Erica Steinberg
Story by: Quentin Tarantino
Starring: Kurt Russell, Rosario Dawson, Vanessa Ferlito, Jordan Ladd, Rose McGowan, Sydney Poitier, Tracie Thoms, Mary Elizabeth Winstead, Zoë Bell
Release Date: 06 April 2007
Running Time: 114 minutes
Plot: Stuntman Mike (Kurt Russell) is a professional body double who likes to take unsuspecting women for deadly drives in his free time. He has doctored his car for maximum impact; when Mike purposely causes wrecks, the bodies pile up while he walks away with barely a scratch. The insane Mike may be in over his head, though, when he targets a tough group of female friends, including real-life stunt woman Zoe Bell (who served as Uma Thurman's double in "Kill Bill"), who plays herself.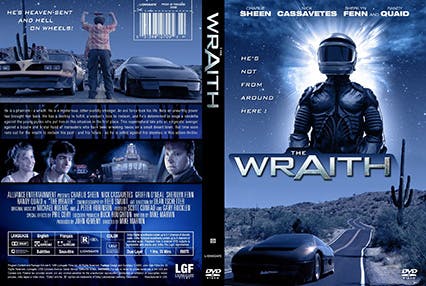 23. The Wraith (1986)
Directed by: Mike Marvin
Produced by: John Kemeny
Story by: Mike Marvin
Starring: Charlie Sheen, Nick Cassavetes, Sherilyn Fenn, Randy Quaid
Release Date: 21 November 1986
Running Time: 93 minutes
Plot: The mysterious driver (Charlie Sheen) of a turbocharged domestic car drag-races an Arizona hot rodder (Nick Cassavetes) in the desert.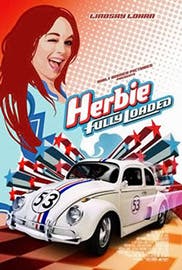 24. Herbie: Fully Loaded (1985)
Directed by: Angela Robinson
Produced by: Robert Simonds
Story by: Thomas Lennon, Robert Ben Garant, Mark Perez
Starring: Lindsay Lohan, Justin Long, Breckin Meyer, Cheryl Hines, Matt Dillon, Michael Keaton
Release Date: 22 June 2005
Running Time: 101 minutes
Plot: Maggie Peyton (Lindsay Lohan) wants to become a NASCAR driver but her overprotective father, Ray Peyton Sr. (Michael Keaton), won't hear of it. A former racer himself, Ray wants Maggie to take a lucrative TV sportscasting job and leave the driving to her crash-prone brother (Breckin Meyer). When Ray Sr. takes Maggie to a junkyard to pick out a car, she has no idea that the little Volkswagen Beetle – named Herbie – she takes home will change her life.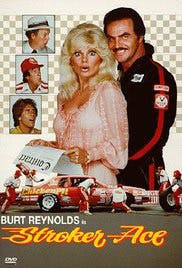 25. Stroker Ace (1983)
Directed by: Hal Needham
Produced by: Hank Moonjean
Story by: Hank Moonjean
Starring: Burt Reynolds, Ned Beatty, Jim Nabors, Parker Stevenson, Loni Anderson
Release Date: 01 July 1983
Running Time: 96 minutes
Plot: Confident NASCAR driver Stroker Ace (Burt Reynolds) runs into problems when a confrontation with his commercial sponsor causes him to lose his contract. Clyde Torkel (Ned Beatty), the owner of a fried-chicken chain, immediately asks Stroker to be the face of his company. After some pushing by Clyde and his marketing executive, Pembrook Feeney (Loni Anderson), Stroker signs on without even reading his obligations. He then finds himself legally bound to a horrible contract, with no end in sight.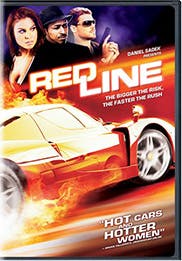 26. Redline (2007)
Directed by: Andy Cheng
Produced by: Daniel Sadek
Story by: Robert Foreman, Daniel Sadek
Starring: Nathan Phillips,Nadia Bjorlin, Eddie Griffin, Angus Macfadyen, Denyce Lawton, Tim Matheson
Release Date: 13 April 2007
Running Time: 95 minutes
Plot: Natasha (Nadia Bjorlin) is an aspiring singer and an ace driver. She gets a gig illegally racing flashy sports cars for wealthy music producer Infamous (Eddie Griffin), who, with his millionaire friends Jerry (Tim Matheson) and Michael (Angus Macfadyen), bets big money on street races. But the already dangerous contests spiral out of control when the conniving Michael decides to do whatever it takes to get Natasha racing for him instead of for Infamous — even if that means kidnapping her.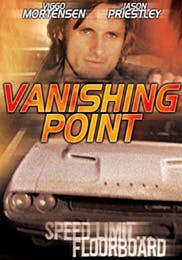 27. Vanishing Point (1997)
Directed by: Charles Robert Carner
Produced by: Guillermo Cabrera Infante
Story by: Malcolm Hart
Starring: Jimmy Kowalski (Mortensen)
Release Date: 07 January 1997
Running Time: 91 minutes
Plot: Vietnam War hero Kowalski (Barry Newman) has become a pill-addicted driver for hire. Transporting a car from Colorado to California, he enlivens the journey by making a wager with his drug dealer: If the trip takes under 15 hours, Kowalski's latest amphetamine purchase is free. But Kowalski's recklessness on the road results in a much-publicized police chase. Radio jock Super Soul (Cleavon Little) covers the pursuit and turns Kowalski, who refuses to pull over, into a martyr for freedom.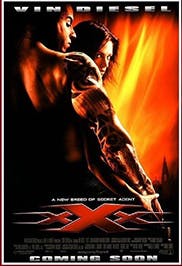 28. xXx, pronounced "Triple X" (2002)
Directed by:  Rob Cohen
Produced by: Neal H. Moritz
Story by: Rich Wilkes
Starring: Vin Diesel, Asia Argento, Marton Csokas, Samuel L. Jackson
Release Date: 09 August 2002
Running Time: 124 minutes
Plot: Vin Diesel stars as former extreme sports athlete Xander "XXX" Cage, notorious for his death-defying public stunts. Betting he can succeed where other conventional spies have failed, Xander is recruited by NSA Agent Gibbons (Samuel L. Jackson) to become a different kind of undercover agent. Enlisted for a dangerous covert mission, he must use all his extreme skills to combat a clever, organized, and ruthless enemy far beyond the scope of his experience.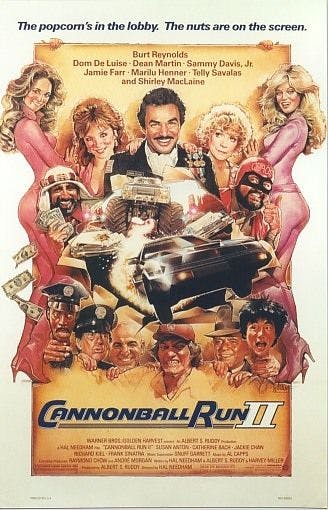 29. Cannonball Run II (1984)
Directed by:  Hal Needham
Produced by: Albert S. Ruddy
Story by: Harvey Miller, Hal Needham
Starring:  Burt Reynolds, Dom DeLuise, Dean Martin, Sammy Davis, Jr., Jamie Farr, Marilu Henner, Telly Savalas, Shirley MacLaine, Susan Anton, Catherine Bach, Jackie Chan, Richard Kiel, Frank Sinatra
Release Date: 29 June 1984
Running Time: 108 minutes
Plot: When a sheik (Jamie Farr) decides to sponsor a cross-country race in hope of winning, racer J.J. McLure (Burt Reynolds) enters the competition along with his friend Victor (Dom DeLuise). They aspire to claim the $1 million prize and pick up two women on the way. Meanwhile, the sheik helps Jamie Blake (Dean Martin) and Morris Fenderbaum (Sammy Davis Jr.) with an angry mob boss. But when the sheik is kidnapped, the contestants must come together to help him.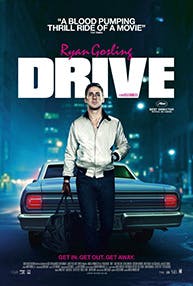 30. Drive  (2011)
Directed by: Nicolas Winding Refn
Produced by: Marc Platt, Adam Siegel, Gigi Pritzker, Michel Litvak, John Palermo
Story by: Hossein Amini
Starring:  Ryan Gosling, Carey Mulligan, Bryan Cranston, Christina Hendricks, Ron Perlman, Oscar Isaac, Albert Brooks
Release Date: 20 May 2011
Running Time: 100 minutes
Plot: Driver (Ryan Gosling) is a skilled Hollywood stuntman who moonlights as a getaway driver for criminals. Though he projects an icy exterior, lately he's been warming up to a pretty neighbor named Irene (Carey Mulligan) and her young son, Benicio (Kaden Leos). When Irene's husband gets out of jail, he enlists Driver's help in a million-dollar heist. The job goes horribly wrong, and Driver must risk his life to protect Irene and Benicio from the vengeful masterminds behind the robbery.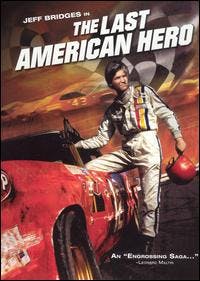 31. The Last American Hero (1973)
Directed by: Lamont Johnson
Produced by: William Roberts, John Cutts
Story by: William Roberts, William Kerby
Starring:  Jeff Bridges, Valerie Perrine
Release Date: 27 July 1973
Running Time: 95 minutes
Plot: Junior Jackson (Jeff Bridges) is a Southern boy with a penchant for driving too fast along his native North Carolina backroads. But when his father, Elroy (Art Lund), is jailed for moonshining, Junior decides to go pro, if only to be able to buy Elroy a few prison privileges. With the help of his brother, Wayne (Gary Busey), he slowly climbs the ranks of the various racing circuits. Often at odds with corporate sponsors, Jackson nevertheless becomes one of the first celebrities of NASCAR.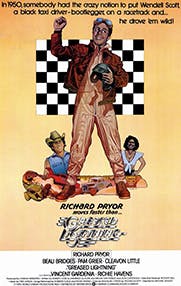 32. Greased Lightning (1977)
Directed by:  Michael Schultz
Produced by: Lester Berman, Hannah Weinstein
Story by: Leon Capetanos, Lawrence DuKore, Melvin Van Peebles, Kenneth Vose
Starring:  Richard Pryor, Beau Bridges, Pam Grier
Release Date: 01 July 1977
Running Time: 96 minutes
Plot: World War II veteran Wendell Scott (Richard Pryor) runs Georgia moonshine and becomes the first black NASCAR driver.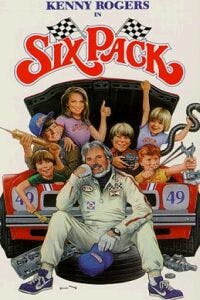 33. Six Pack (1982)
Directed by: Daniel Petrie
Produced by: Michael Trikilis
Story by: Mike Marvin, Alex Matter
Starring:  Kenny Rogers, Diane Lane, Erin Gray
Release Date: 16 July 1982
Running Time: 108 minutes
Plot: When race car driver Brewster (Kenny Rogers) stops at a gas station in Texas, he returns to find that his race car has been stripped bare. He chases down the culprits, who turn out to be a group of mechanically inclined orphans, led by young Breezy (Diane Lane) and her brother, Doc (Anthony Michael Hall). But Brewster learns that the local sheriff (Barry Corbin) has blackmailed the kids into doing his illegal bidding, so the race car driver decides to take on the poor orphans as his pit crew.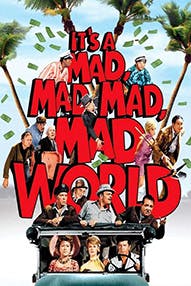 34. It's a Mad, Mad, Mad, Mad World  (1963)
Directed by:  Stanley Kramer
Produced by:  Stanley Kramer
Story by: William Rose, Tania Rose
Starring:  Spencer Tracy, Milton Berle, Sid Caesar, Buddy Hackett, Ethel Merman, Mickey Rooney, Dick Shawn, Phil Silvers, Terry-Thomas, Jonathan Winters, Edie Adams, Dorothy Provine
Release Date: 07 November 1963
Running Time: 108 minutes
Plot: The story begins during a massive traffic jam, caused by reckless driver Smiler Grogan (Jimmy Durante), who, before kicking the bucket, cryptically tells the assembled drivers that he's buried a fortune in stolen loot, under the Big W. All of the motorists set out to find the fortune.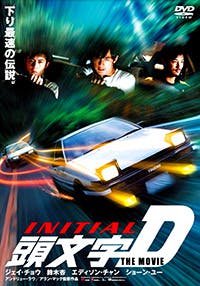 35. Initial D (2005)
Directed by:  Andrew Lau
Produced by:  Andrew Lau
Story by: Shuichi Shigeno
Starring:  Jay Chou, Edison Chen, Shawn Yue, Anne Suzuki
Release Date: 23 June 2005
Running Time: 110 minutes
Plot: A teenage delivery boy (Jay Chou) utilizes special driving skills to compete against other racers.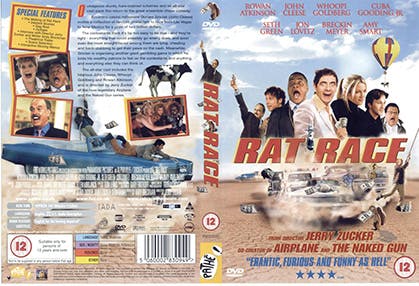 36. Rat Race (2001)
Directed by:  Jerry Zucker
Produced by:  Jerry Zucker, Janet Zucker, Sean Daniel
Story by: Andy Breckman
Starring:  Rowan Atkinson, John Cleese, Whoopi Goldberg, Cuba Gooding Jr., Seth Green, Jon Lovitz, Breckin Meyer, Kathy Najimy, Amy Smart
Release Date: 17 August 2001
Running Time: 112 minutes
Plot: In an ensemble film about easy money, greed, manipulation and bad driving, a Las Vegas casino tycoon entertains his wealthiest high rollers — a group that will bet on anything — by pitting six ordinary people against each other in a wild dash for $2 million jammed into a locker hundreds of miles away. The tycoon and his wealthy friends monitor each racer's every move to keep track of their favorites. The only rule in this race is that there are no rules.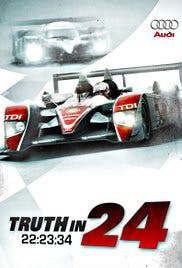 37. Truth in 24  (2008)
Directed by:  Keith Cossrow, Bennett Viseltear
Produced by:  Charles N. Besser, Alan Brown, Matt Goldfine, Chuck Johnsen, Howard Katz, Pat Kelleher, Ross Ketover, Steve Sabol, Scot Thor
Story by: Keith Cossrow, Bennett Viseltear
Starring:  Jason Statham (narrator), Allan McNish, Rinaldo Capello,Tom Kristensen
Release Date: 25 October 2008
Running Time: 98 minutes
Plot: The Audi team competes in a grueling 24-hour race in Le Mans, France.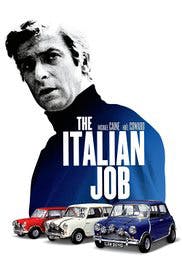 38. The Italian Job (1969)
Directed by:  Peter Collinson
Produced by:  Michael Deeley
Story by: Troy Kennedy Martin
Starring:  Michael Caine, Noël Coward, Benny Hill, Raf Vallone, Tony Beckley
Release Date: 02 June 1969
Running Time: 99 minutes
Plot: After a heist in Venice, Steve (Edward Norton) turns on his partners in crime, killing safecracker John Bridger (Donald Sutherland) and keeping all the gold for himself. The rest of the team, including leader Charlie Croker (Mark Wahlberg), driver Handsome Rob (Jason Statham), explosives man Left Ear (Mos Def) and tech geek Lyle (Seth Green), vows revenge. They enlist the help of Bridger's daughter, Stella (Charlize Theron), and plot to recover the gold from Steve's Los Angeles mansion.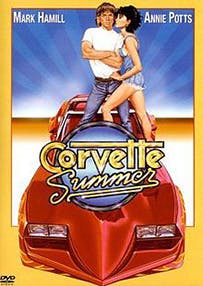 39. Corvette Summer (1979)
Directed by:  Matthew Robbins
Produced by:  Hal Barwood
Story by: Hal Barwood, Matthew Robbins
Starring:  Mark Hamill, Annie Potts, Eugene Roche, Kim Milford, Richard McKenzie, William Bryant, Philip Bruns, Danny Bonaduce
Release Date: 02 June 1978
Running Time: 104 minutes
Plot: A student hooker (Annie Potts) in a van picks up a Las Vegas-bound teen (Mark Hamill) on the trail of a stolen Stingray.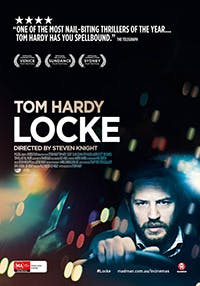 40. Locke (2013)
Directed by:  Steven Knight
Produced by:  Guy Heeley, Paul Webster
Story by: Steven Knight
Starring:  Tom Hardy
Release Date: 02 September 2013
Running Time: 85 minutes
Plot: A man's (Tom Hardy) life unravels after he leaves a construction site at a critical time and drives to London to be present for the birth of a child conceived during a one-night stand.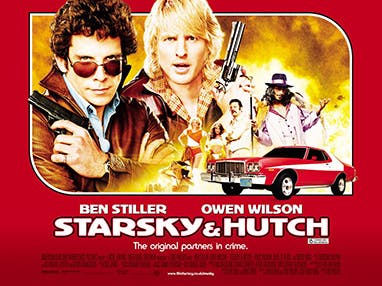 41. Starsky & Hutch  (2004)
Directed by:  Todd Phillips
Produced by:  William Blinn, Stuart Cornfeld, Akiva Goldsman,Tony Ludwig, Alan Riche
Story by: Stevie Long, John O'Brien
Starring:  Ben Stiller, Owen Wilson, Vince Vaughn, Juliette Lewis, Fred Williamson, Jason Bateman, Chris Penn, Carmen Electra, Amy Smart, Brande Roderick, Snoop Dogg
Release Date: 05 March 2004
Running Time: 101 minutes
Plot: High-strung workaholic David Starsky (Ben Stiller) and laidback ladies' man Ken "Hutch" Hutchinson (Owen Wilson) are detectives who patrol the crime-ridden streets of Bay City, Calif. When the murdered body of a drug dealer is found on a local beach, Starsky and Hutch follow the clues to repeat offender Reese Feldman (Vince Vaughn). But time and again the mismatched cops fail to apprehend the shifty Feldman, while under their noses he goes about planning his biggest trafficking operation yet.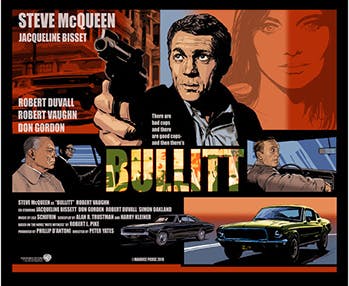 42. Bullitt (1968)
Directed by:  Peter Yates
Produced by:  Philip D'Antoni
Story by: Alan R. Trustman, Harry Kleiner
Starring:  Steve McQueen, Robert Vaughn, Jacqueline Bisset
Release Date: 17 October 1968
Running Time: 113 minutes
Plot: Senator Walter Chalmers (Robert Vaughn) is aiming to take down mob boss Pete Ross (Vic Tayback) with the help of testimony from the criminal's hothead brother Johnny (Pat Renella), who is in protective custody in San Francisco under the watch of police lieutenant Frank Bullitt (Steve McQueen). When a pair of mob hitmen enter the scene, Bullitt follows their trail through a maze of complications and double-crosses. This thriller includes one of the most famous car chases ever filmed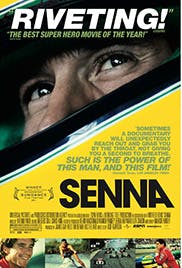 43. Senna
Directed by:  Asif Kapadia
Produced by:  Tim Bevan, Eric Fellner, James Gay-Rees
Story by: Manish Pandey
Starring:  Ayrton Senna, Alain Prost, Frank Williams, Ron Dennis
Release Date: 07 October 2010
Running Time: 106 minutes
Plot: Ayrton Senna becomes a three-time Formula One racing champion and Brazil's national hero before his untimely death at age 34.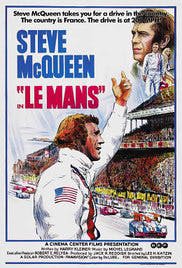 44. Le Mans (1971)
Directed by:  Lee H. Katzin
Produced by:  Jack N. Reddish
Story by: Harry Kleiner
Starring:  Steve McQueen
Release Date: 23 June 1971
Running Time: 101 minutes
Plot: Filmed during the annual 24-hour endurance race at Le Mans, France, in 1970, this fast-paced drama follows Michael Delaney (Steve McQueen), a Porsche driver haunted by the memory of an accident at the previous year's race in which a competing driver was killed. To top things off, Delaney also finds himself increasingly infatuated with the man's widow (Elga Andersen). The minimal storyline focuses on Delaney's race-long rivalry with his Ferrari-driving archnemesis, Erich (Siegfried Rauch).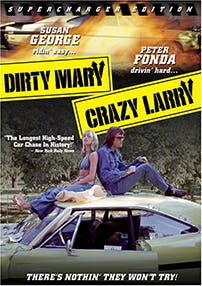 45. Dirty Mary, Crazy Larry  (1974)
Directed by:  John Hough
Produced by:  Norman T. Herman
Story by: Leigh Chapman, Antonio Santean
Starring:  Peter Fonda, Susan George, Adam Roarke, Vic Morrow
Release Date: 17 May 1974
Running Time: 92 minutes
Plot: Down on their luck and out of cash, high-speed racer Larry (Peter Fonda) and his repairman (Adam Roarke) plan to hold up a supermarket that's fat with a fresh payroll. Larry hopes to score enough to buy his ideal car, and then join the professional league. At the last minute, their heist is complicated by the addition of Larry's on-off girlfriend (Susan George), who's all jazzed up for the burglary. Larry's racing skills will be pushed to the limit in this chase-packed action thriller.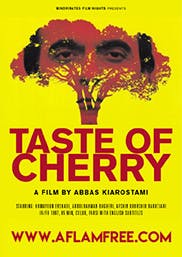 46. Taste of Cherry (1997)
Directed by:  Abbas Kiarostami
Produced by:  Abbas Kiarostami
Story by: Abbas Kiarostami
Starring:  Homayoun Ershadi, Abdolrahman Bagheri, Afshin Khorshid Bakhtiari, Safar Ali Moradi
Release Date: 28 September 1997
Running Time: 95 minutes
Plot: A middle-aged Tehranian man, Mr. Badii (Homayoun Ershadi) is intent on killing himself and seeks someone to bury him after his demise. Driving around the city, the seemingly well-to-do Badii meets with numerous people, including a Muslim student (Mir Hossein Noori), asking them to take on the job, but initially he has little luck. Eventually, Badii finds a man who is up for the task because he needs the money, but his new associate soon tries to talk him out of committing suicide.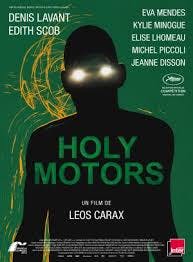 47. Holy Motors
Directed by:  Leos Carax
Produced by:  Martine Marignac, Albert Prévost, Maurice Tinchant
Story by: Leos Carax
Starring:  Denis Lavant, Édith Scob
Release Date: 23 May 2012
Running Time: 116 minutes
Plot: Driven around Paris by a loyal driver (Édith Scob), a mysterious man (Denis Lavant) dresses up in costumes and plays a number of strange, semi scripted roles.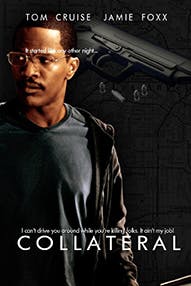 48. Collateral  (2004)
Directed by:  Michael Mann
Produced by:  Michael Mann, Julie Richardson
Story by: Stuart Beattie
Starring:  Tom Cruise, Jamie Foxx, Jada Pinkett Smith, Mark Ruffalo, Peter Berg, Bruce McGill
Release Date: 06 August 2004
Running Time: 120 minutes
Plot: A cab driver realizes his current fare is a hit man that has been having him drive around from mark to mark until the last witness to a crime is dead. When the cabbie finally figures out the truth, he must prevent the assassin from wiping out his last witness without becoming the next in the professional killer's line of casualties.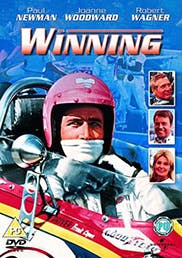 49. Winning (1969)
Directed by:  James Goldstone
Produced by: John Foreman
Story by: Howard Rodman
Starring:  Paul Newman, Joanne Woodward, Robert Wagner
Release Date: 22 May 1969
Running Time: 123 minutes
Plot: Race car driver Frank Capua (Paul Newman) holds track victories above all else, but as he competes in the string of races that lead to motoring's crown jewel, the Indianapolis 500, he finds it harder to connect with wife Elora (Joanne Woodward) and stepson Charley (Richard Thomas). When he learns that Elora is sleeping with fellow racer Luther "Lou" Erding (Robert Wagner), Frank leaves the family, but plucky Charley decides he won't stand idly by as his family disintegrates.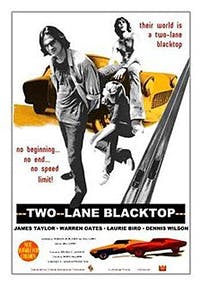 50. Two-Lane Blacktop (1971)
Directed by:  Monte Hellman
Produced by: Michael Laughlin
Story by: Rudolph Wurlitzer, Will Corry
Starring:  James Taylor, Warren Oates, Laurie Bird, Dennis Wilson
Release Date: 07 July 1991
Running Time: 102 minutes
Plot: In this cult favorite road film, a mechanic (Dennis Wilson) and a driver (James Taylor) live only to race and maintain their 1955 Chevy. Heading east from California with no particular agenda, they give a girl (Laurie Bird) a ride, and en route she incites jealousy between the men by sleeping with them both. Meanwhile, the trio encounters an overbearing GTO driver (Warren Oates) who agrees to race them to New York, each side putting at stake their most prized possession: their car.
The above images were retrieved from Hispotion and Petrolicious.
Looking to sell your car? At CarZar, we buy cars for cash instantly! On www.carzar.co.za you can get a free instant online quote for your car and sell your car in just 30 minutes.

GET A FREE QUOTE