A shuffling, zombie-like figure emerges from a dark corridor and scrabbles around in the shadows. A light flicks on, illuminating the shambolic creature for what it is: it's you, two days before payday, looting your parents' fridge for supplies.
READ: 3 Ways To Travel SA On A Budget


How to Budget 101: Prevent the Pre-Payday Panic
We've all been there, and it always starts the same way: it's the first week after payday, and you're determined not to end up in the same position as last time. You're going to save some cash for that overseas trip, or to take your significant other somewhere nice for your anniversary.
Then a few days later, there's a sale on and, yeah, you really do need that new pair of boots. "Treat yo'self," you say, smiling wistfully at yourself *insert requisite Joey facial expression here*.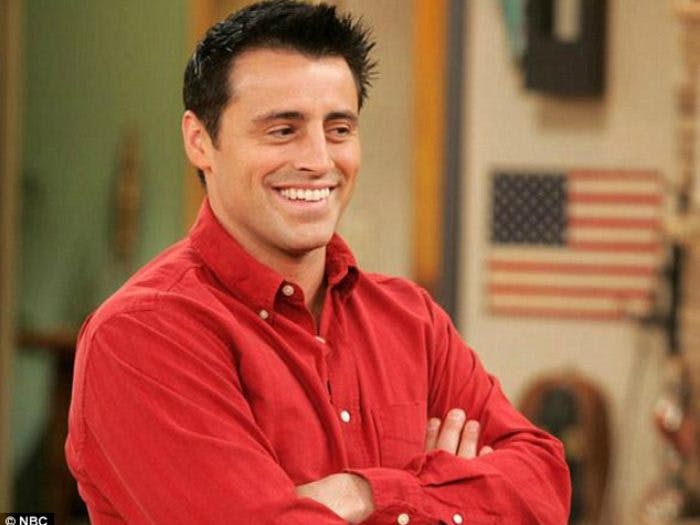 "How you doin' (for cash this month)?"
A few days after that, a friend invites you out for a few drinks, and you think, "It'll be fine, I'll just have the one!"
Before you know it, you're right back where you started, eating 2-minute noodles straight out of the packet and bumping into things because you don't want to turn the lights on and waste electricity.
You think to yourself: "There has to be a better way."
The good news is that there is – but you're not going to like it.
"How do I save money every month," you ask?
Effective budgeting –the kind your cousin Matt-who's-in-banking must use, because he's always out partying while you're at home scooping leftover tomato sauce back into the bottle – all depends on one thing: planning.
Well, two things really. The other one is actually doing, but we'll get to that.
#1 Budget: just do it
Budgeting is just one of those things that will never work if you don't actually sit down and spend some time going through your monthly expenses, identifying areas you overspent last month and seeing where you can cut back. Decide on ways in which you could cut down on utility bills, gas and other aspects of your monthly expenses. For instance, if you are looking to cut down on electricity charges, look for economical options (consult a West Palm Beach solar panel installation company that specializes in such set-ups) for the long run.
Set up a budget planner on Excel, or write one by hand if you're old-fashioned that way. Divide your expenses into 'Fixed', 'Variable', and 'Discretionary'. All expenses matter, even if they seem inconsequential – you'll be amazed how quickly those little bits add up to a big, scary amount. Also, make a special column for regular maintenance expenses for house repairs and renovations. Most people neglect such expenditures until the last moment and it can negatively affect your budget. So, save a separate amount every month of home maintenance and use it for activities such as hiring a house painter in GA or a handyman for plumbing repairs, roof installment, etc.
#2 Pick a number, any number
It might seem infantile, but keeping that figure in your head for the day (an easy sum that all of us can do with the help of a calculator app) will help you contextualise your spending. Does that Kauai wrap look really good on Uber Eats? What if it means spending half of your daily allowance? Yeah, that's what I thought.
#3 Dear Diary…
Start a money diary, keeping track of everything you buy each day. A note on your phone will do, or compose a draft email to yourself that you keep updating. Include the date, description and amount for each expense, so you don't lose track.
#4 Cook meals in advance
Don't underestimate the amount of money you spend on things that seem vital, like food. Even the fastest of foods is likely to cost you at least R40 for a meal, if not more. Sure, chicken and rice five lunches in-a-row might be difficult to stomach, but with a little inventiveness you can prepare a variety of meals for the week ahead. Pick your basic ingredients and type them into Google to get some recipe ideas. Also, don't be scared to raid the pantry. Buy tinned goods when you see on special, and you'll be surprised what you can come up with when funds are tight.
#5 Dollar bills
Speaking of weekly prep: try to draw cash for the week ahead, as well. You don't need to carry it all with you, and you can have your bank card in case of emergencies, but just seeing that fat stack of bills depleting in front of your eyes, and feeling your wallet lighten as the week goes by, serves as a nice reminder of the gravity of that next guilty purchase.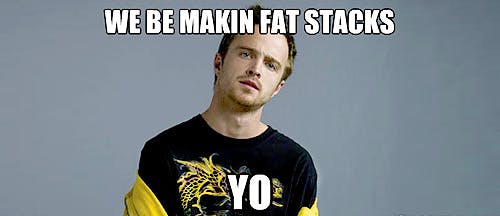 Me be makin' fat stacks? No.
#6 Public transport
There are some obvious things that people are quick to discount, like taking public transport. Yes, it's a schlep, and yes, Metrorail is cancelling more rides than Uber, but that doesn't mean you should give up altogether. Even one trip by public transport a week can save you a decent chunk of cash. Depending on how far your commute is, taking the train can save you up to a R1000 a month – that's no chump change.
#7 Do your partying at home.
Whatever happened to the good ol' days of house parties and drinking wine on the porch? You don't have to be some swinging hipster to enjoy a cold one in the privacy of your own home, with some mates and some tunes. Who says you need to hit the town to paint it red? I see red when I see the price of two drinks at one of the many upstanding establishments around our beautiful country.
#8 Happy-hour
If you absolutely MUST go out and get plastered, or your newly-minted Tinder date won't meet up at a complete stranger's house, do yourself a favour: make use of Happy-Hour Specials. Lots of establishments have them, and they're usually quite a bargain – Hudson's is my personal favourite, they have premises in Joburg and the Mother City, with a 500 ml draught of beer for as little as R12 and snacks half-price in case you get the munchies. With a little bit of pre-planning you can fit your esca-party-pades into the time slot for the special, and save yourself literally half the money you would usually spend.
#9 No means no
This brings me nicely to another point: don't be afraid to say no. If your friends are begging you to meet them at the newest Gin-and-other-Expensive-Alcohol Bar, which only serves their cocktails sieved through finely-woven gold baskets (which are tagged onto your bill at the end of the night), then don't feel ashamed to let them know that it's out of your price range. Pick a place you can all afford, or meet them for the next one when you have a little more disposable cash. Real friends will be excited to see you, not been seen with you at some fancy diamond-dusted-craft-beer lounge.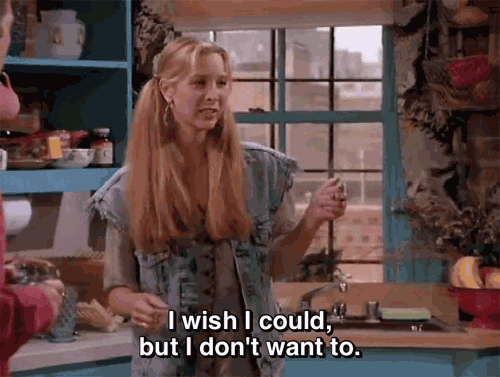 "You're going out? Ah, I wish I could, but…"
#10 Start an Emergency Fund
We all know about 'Emergency Funds': they sound good on paper, but you're reading this because you haven't even got a grand at the end of the month, let alone a grand left over. So here's the trick to creating that emergency fund: put away a little every day. Most of us have savings accounts that we can access in times of need (if you don't, you should, it only takes a few minutes in the bank). Thanks to the miracle of the internet banking, it's a cinch to view our funds and transfer money between accounts. Try moving a manageable amount across from your current account to your savings account, every day.
What's manageable? Well, how much are you willing to spend at the pub for a few drinks, or getting lunch? For argument's sake, let's say R50. If you put R50 into that emergency fund every day for a month, that's a whopping R1500 – enough to get you out of a medium-sized tight spot, and you can set yourself a goal: after a few months of not touching it, you might have enough extra to treat yourself to something nice, like a weekend away. Don't skim too much though, this is your get-out-of-jail-free money, sort of.
And here's a free one, just because I like you.
#11 Sell, sell, sell!
If, even after all of these tips and tricks, you still are struggling for cents towards the end of the month, there is one final tip I can give you: sell some of your stuff. There are a tonne of local second-hand forums on Facebook. Look for Second-hand Joburg and Second-hand Cape Town, as good examples. That cute pair of heels that give you blisters or the sick snap-back that makes you look like Marvin the Martian from Space Jam can finally go to a loving home for a lovely EFT straight into your bank account.
Looking to cut back on costs? Petrol prices are set to increase again next month, and your personal gas-guzzler isn't doing your bank balance any favours. Companies like CarZar are known for buying cars for cash – if you're thinking about selling a used car, you can get a free online car valuation on their website. You'll get a free quote in seconds, and if you accept it they'll send you an instant cash payment – just what we need at the end of a tough month!

GET A FREE QUOTE