The international market research group Ipsos recently released their annual customer service survey was released recently. Involving more than 7000 customer interviews, this survey mentioned a number of positive points about the South African automotive industry – we have a great variety of cars to pick from and a high standard of vehicle quality – it also highlighted the issues that car owners had with their chosen models. The survey also compared issues with Imported vehicles and locally-made cars.
The most common of these problems – listed as the biggest problem for customers in 13 of the 16 vehicle segments, and the second biggest problem in two others – was poor fuel consumption. This makes sense, when you consider the increasing price of fuel due to South Africa's weakening economy.
Some of the other common problems car-owners faced include poor performance, strange noises and audio malfunctions, as well as onboard-technology issues like tyre-sensor problems.
On average, the automotive industry's score increased by 10% when compared to the previous period, and most problems that were mentioned were based on individual consumer expectations, and were therefore subjective.
Here's a list of the most common problems per vehicle segment: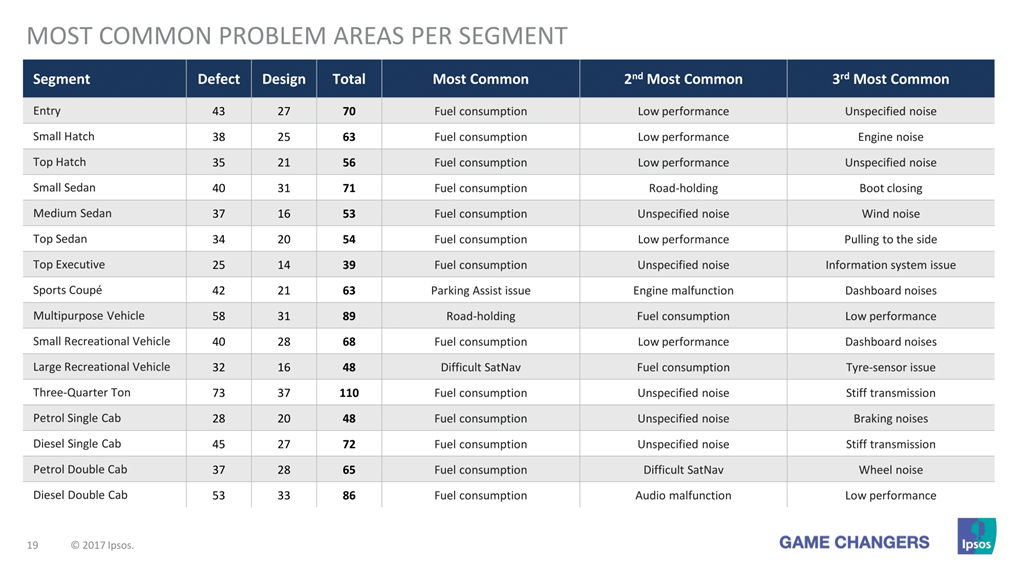 Image credit: Wheels24